Culture and heritage tourism plays a critical role in building the visitor economy and goes even beyond that. A recent survey showed that over 50% of respondents polled agreed that history and culture are strong influences on their choice of holiday destination. 
Culture and heritage tourism is a fast-growing and high-yielding sector
Statistics also indicate that culture and heritage tourism continues to grow rapidly, especially in OECD and APEC regions. We estimate the direct global value of culture and heritage tourism to be well over $1billion dollars, with that of the Asia Pacific region being approximately $327 million.
It is already directly responsible for more than 50 million jobs in APEC countries. And what's more, the indirect benefits of culture and heritage tourism are thought to be of the order of $1 billion and account for further 75 million jobs across the region. 
There is no denying the fact that culture and heritage tourism tends to attract high-yield tourists. While global figures can be hard to obtain, all available statistics on tourism in various individual markets like the UK, New Zealand, Australia, India, etc. reveal a consistent pattern.
Culture and heritage tourists often stay longer and spend a lot more money in general than other tourists do. In fact, one study showed that a culture and heritage tourist spent as much as 38% higher per day and they stayed 22% longer overall compared to other kinds of travellers.
Although the statistical evidence doesn't show consistency regarding repeat visitors, tourism data on United States' Culture and Heritage visitors indicates that the level of repeat visitation amongst this group of travellers is higher than that of traditional tourists. 
It builds engagement
Culture and heritage tourists usually visit cultural heritage attractions such as historic buildings and other historic attractions; archaeological sites; state, local, or national parks; art galleries or museums; concerts, plays, or musicals; ethnic or ecological heritage sites; and such attractions. These travellers say that these trips are more memorable than conventional holiday trips since they allow them to learn something new.  This focus on learning skills and gain enrichment has been identified by Trendwatching as a core global trend in travel (and links to broader macro trends in consumer needs).
Culture and heritage tourists say they often extend their stay because of a heritage activity. The majority of these travellers stay overnight at local motels, hotels, bed, and breakfasts, or campgrounds. Culture and heritage tourists also tend to put more money back into the local economy, spending more than other kinds of tourists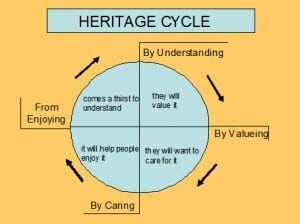 per trip. However these economic benefits are not the only reason why heritage tourism may be good for the community. 
The benefits of culture and heritage tourism are amplified through the economy, so their impact is much wider than just the direct spending levels. As Simon Thurley of English Heritage has shown in his Heritage Cycle, heritage tourism has benefits that extend beyond the solely economic. 
What are the benefits of heritage tourism?
Generally, the benefits of heritage tourism can be categorized into three groups: economic, social, and environmental. As they tend to be the highest focus for destinations and policymakers we have focused on the economic benefits first
Economic Benefits of Cultural and Heritage Tourism
Injects new money into the economy, boosting businesses and tax revenues 
Creates new jobs, businesses, events, and attractions, thus helping diversify the local economy 
Supports small businesses and enables them to expand 
Promotes the active preservation and protection of important local resources 
Builds vital relationships among and within local communities
Helps encourage the development and maintenance of new/existing community amenities 
Social Benefits of Cultural and Heritage Tourism 
Helps build social capital
Promotes preservation of local traditions, customs, and culture. UNESCO now recognises intangible cultural heritage as being as important as buildings.  A market for experiences and traditional projects provides the economic support for keeping these skills and traditions alive
Promotes positive behaviour 
Helps improve the community's image and pride
Promotes community beautification
Builds opportunities for healthy and useful community relationships and partnerships
Provides research, education, and work-placement opportunities for students
Creates enjoyable opportunities for both local residents and visitors attracted to the cultural arts, history, and preservation
Boosts local investment in heritage resources and amenities that support tourism services 
There is even evidence that helping to maintain buildings of character culture and heritage tourism can also contribute to the innovation and business diversification of precincts.  Small businesses based in amazing buildings are typically innovators and provide a core for other larger businesses.
Environmental Benefits of Cultural and Heritage Tourism 
Helps encourage a culture of preservation
Boost awareness of the tourist site, attraction, or area's significance
Helps encourage local residents and visitors to be mindful of their impact on the natural and built environment 
 Although there is a risk that this type of tourism can lead to a place being 'loved to death (think the Taj Mahal or the Sistine Chapel), properly handled it can provide a reason to invest in things like sewage and water resources in areas. 
So that is why we think Cultural and Heritage Tourism is vital to the visitor economy – and destinations should seek to maximise the opportunities it brings. In future articles, we will be delving more deeply into practical opportunities on how to do that. (If you are an MTR member then you can also access more detailed content via the Members Only HomePage.)
Looking for more Culture and Heritage tourism information? You can check out our blog about defining cultural and heritage tourism and cultural tourism opportunities.
---
Do you want to hear more from us? 
Want to be kept up to date with the latest travel and tourism insights? Join Our Mailing List. Every 2 weeks, we send the latest practical insight for you to apply to your business and destination marketing.