Co-Founders Bronwyn White and Carolyn Childs are Travel research practitioners with a combined experience of nearly 60 years in the travel industry! 
We are a market research agency that specialises in the travel and tourism industry.  We lead a global team of travel researchers and marketing specialists who's job it is to keep on top of traveller trends, opportunities and market changes.
MyTravelResearch.com Travel Trends and Insights Hub Subscription
Through the MyTravelResearch.com premium travel trend subscription service, we help tourism businesses and destination managers grow their visitor economy by delivering evidence-based insight.
We offer a subscription service that delivers 2 best in class travel research / insight reports every month (plus many more benefits)
Our traveller-centric reports and resources put the voice of the customer at the centre of decision-making and assist you with stakeholder and industry management.
Our ideal clients are destinations, business or tourism managers who wants to unlock a minimum $30K a year on market intelligence and research about the travel and tourism industry.
You can use our reports to:
Increase visitation
Increase traveller spend
Increase length of stay
Discover new opportunties, niches
Traveller trends and personas
Uncover any threats that are looming - you don't know what you don't know
Our clients love the reports because it helps them have more control over marketing decisions, members and stakeholders.
"As a subscriber, expect to unlock your new $30 000 a year market research budget for a fraction of the cost." Find out how, here.
We have been feature in global press - both mainstream and travel industry.

Recognised by the Australian government as
one of Australia's best tourism exports.
We are showcased as one of Australia's finest tourism exports and featured in Austrade's Tourism and Destination Development suppliers brochure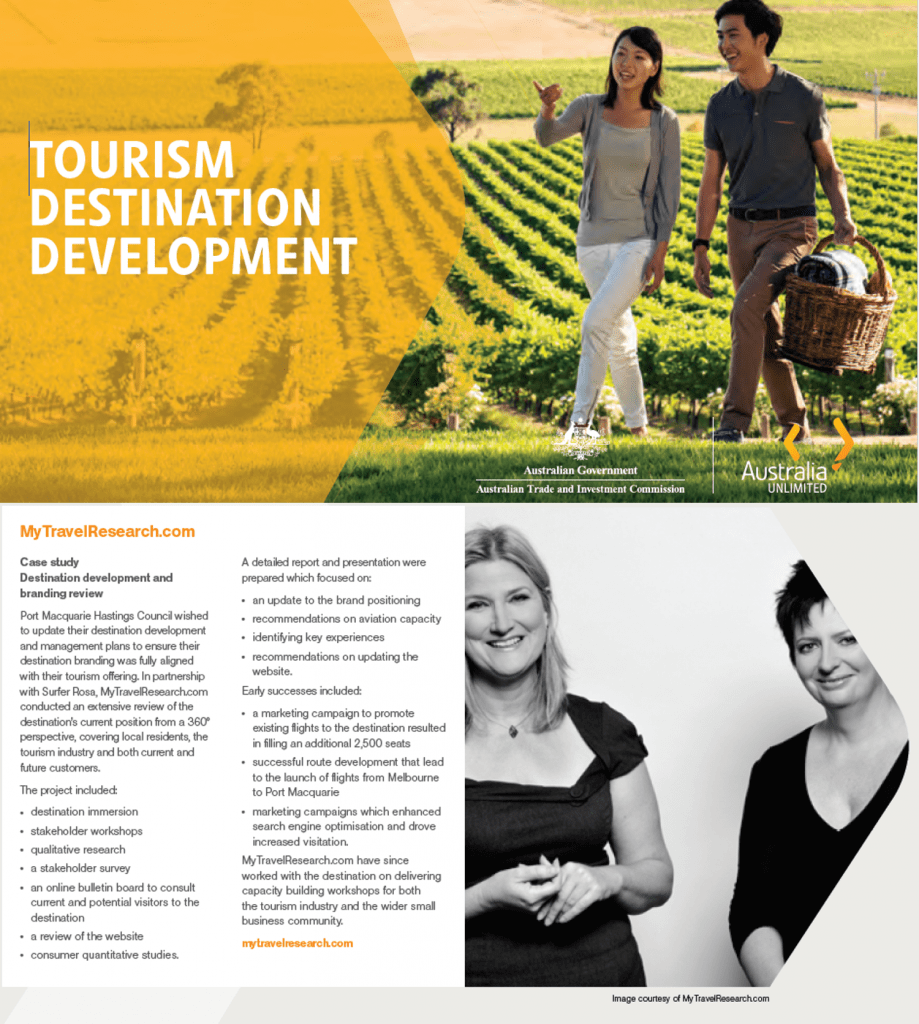 A little bit more about the founders of MyTravelResearch.com
Bronwyn White | Travel Futurist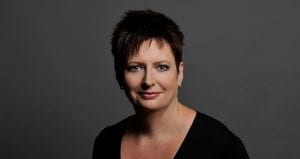 Bronwyn has 25 years experience in the travel and tourism industry in the areas of market research, sales and marketing. Her extensive career began with Qantas Airways, where she worked her way through many facets of the most recognised and respected brand in Australia, in areas such as market research and consumer insights, wholesale, retail, group sales, freight and marketing. She has also worked at Tourism NSW as a Regional Marketing Manager.
In her consultancy life, Bronwyn has experience in a wide range of travel and tourism services, including: Market research / insights, strategic and tactical marketing consultancy and executive officer services for regional tourism organisations.  Bronwyn has had a wide range of clientele from  the Qantas Board, Regional Tourism Organisations to small bed and breakfasts.
In addition to market research and marketing services,   Bronwyn currently focuses on helping the tourism and small business sectors make the most of the online and digital resources.  She does this by showing small to medium businesses the power of having an online presence.
She also runs a well respected seniors travel blog, http://www.newyoungtravel.com.au.
Bronwyn is also the published author of Seniors Travel Tips, a global travel guide for seniors.
Carolyn Childs | Strategist, Futurist, Researcher
Carolyn has spent more than 25 years' helping businesses achieve their goals by using research and other evidence to guide strategy and planning – mainly in the aviation, travel and tourism fields.  She has worked in more than 35 countries on every inhabited continent and brings a detailed understanding of customers and how to connect with them. As well as running her own businesses, she has worked for organisations such as the International Air Transport Association, TNS (the world's largest custom research company) and the Travel Research Centre.  Her clients include blue chip names across the industry including Aer Rianta, Tourism Australia, TurEspana (Spanish national tourism organisation), Air New Zealand, Qantas and Emirates.
Her passion is making a difference and she does this by making research accessible and business focused. With Bronwyn White, she co-created Domesticate™ (now owned by TNS) – one of the industry's most respected sources of strategic direction for the Australian domestic tourism market.
She set up MyTravelResearch.com with Bronwyn in 2011 to help fulfill this passion by making the tools, approaches and insights accessible to everyone.
Carolyn is a regular speaker at conferences.  She is currently President of the Asia Pacific Chapter of the Travel and Tourism Research Association, is a Certified Member of the Market Research Society and has sat on the UNWTO Panel of Tourism Experts.
Contact us by phone or email if you would like to chat further about your tourism research or marketing requirements and business objectives.
For more information about our work and skills, check out our testimonials page.