When the going gets tough, the tough (should) get marketing
We in the tourism industry can sometimes feel life is really hard for us.  The pressure can feel unremitting: economic pressure shocks like terrorism (I am writing this a few weeks after the attacks on New Zealand and Sri Lanka).
So when I am advising small businesses and destinations, they'll often say they find it hard to find the time to do marketing. In particular, time to do marketing consistently i.e. the regular posting of videos, newsletters etc.,
But there is one very good reason to do so – content marketing will keep your business or destination resilient when the going gets tough.
If you can do it here, you can do it anywhere
To demonstrate that, I'm going to take an example of how content marketing can help from another sector: Real estate. 
After years of rapid growth, the property market in Sydney where I am based is falling.  As someone who looks at long-term trends, I can see that by historic levels prices in Sydney are still high.  But if your business is selling houses then it can still be pretty nerve-wracking. And at least as nerve-wracking as anything we face in the tourism industry outside extreme events.  In fact, the suburb where I am based has regularly been quoted as one of those facing the biggest drops: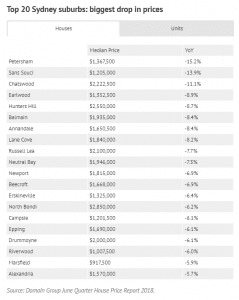 But a friend of mine who works in real estate in Sydney has just had his best February in years.   In fact, his problem is currently having enough properties to show people!
What's the secret to his success in a tough market?
It's not rocket science.  It's a deft combination of good content marketing and delivering on the promise of that marketing. 
I met Frederico Fraga-Matos through our local business association. He is a regular attendee at events, especially anything to do with marketing.  More importantly, he's taken advice from those events and applied it to his business.
Firstly, he's worked out what his business brand is all about. Yes, his business is part of a franchise group, but he's extended beyond that.  Petersham is known as Little Portugal, so his name already positions him as an expert in the area.  It's a family business that's been here for more than 20 years. He's used that positioning and the relationship with loyal customers to build trust in a sector where trust is an even rarer commodity than for most businesses.  
He builds that trust by regular postings that are useful to people.  He provides a monthly video update on the property market – often by meeting a local business.  Remember how often we have told you that people LOVE LOCAL.
He's used his local and industry knowledge to ensure that this useful content builds authority.  This positions him as an expert on the area. Here he is chatting about how to take find opportunities in the property market during a downturn.  He also has a Facebook group dedicated to showcasing all that is best about life in the area: Life in Petersham.   His blog features heaps of useful tips and tricks for the area. Of all the measures that optimise your SEO, authority takes the longest to build. And it really needs consistency to drive it.  But when he posted this video, he was inundated with people asking to share it and talking about it – doing his marketing for him without him having to do the hard sell.  
Imagine what you could do if…
So if Frederico can build trust, reputation, and authority in one of the least trusted sectors and have a fantastic month under the toughest conditions, imagine what content marketing could do for your tourism business.
It would enable you to have the kind of growth now that would position your business to be resilient in the future – and keep you there when the going is really tough.