Our 2021 International Toilet Tourism Awards are open for business.
Yes, it's time to talk dirty again! Or maybe that should be clean?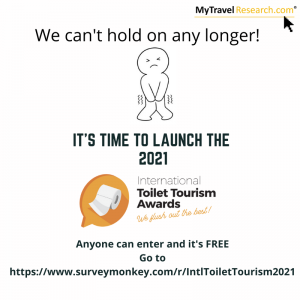 Why should you enter?  Here's 3 great reasons:
Toilets are a key brand asset for tourism
Over the years at MyTravelResearch.com we have seen how important great toilets are as a brand asset.  They literally tell customers whether or not your destination or business is thriving.  Indeed as Ged Brown of the Low Season Traveller Podcast mentioned when we caught up on the awards last week that is exactly what some auditors or sales people do when they visit a business.  They check out the toilets.  If the toilets are dirty or distressed then credit terms can actually be less generous.
Great toilets have huge PR value for destinations or tourism businesses
Back in 2018, our best economic contributor winner was the toilets created by a little town in South Australia called Cummins.  Commentary went nationwide with our public broadcaster picking up the story.  A few weeks later I was watching the programme Have You Been Paying Attention.  One of the questions was what makes Cummins famous?  The answer of course was its status as a toilet award winner.  The programme reaches about almost three quarters of a million Australians on prime time television, many of an age that small destinations often struggle to reach.  Put that into advertising dollars and you can see it adds up to quite a lot.
The Irish Times actually sent a reporter to the remote Cobourg Peninsula in Australia to interview our inaugural Toilet Tourism Awards best location winner.  Again that is the kin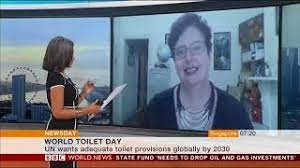 d of publicity that a small business can only dream about. 
Since the awards were launched my former business partner Bronwyn White and I received truly global coverage with her including her appearing on BBC World's Asia News. An audience of millions heard about our business and passion for tourism. 
Toilets convert interest into tourists – and dollars 
One of the reasons we created the awards was that over and over again in focus groups travellers told us that toilets are a differentiator in deciding where to stop on a road trip.  I might start with a simple visit to the loo, but if it is a good experience then it extends to coffee or the bakery. On long trips it can also be an overnight trip.
When Destination Southern Highlands brought information and local products into their toilets they found more people actually came into the Welcome Centre – and spent.  It was part of a broader redesign that increased retail spend by 20%.  There's no surprise they were an International Toilet Tourism Awards winner for Best Economic Contribution
It's free to enter.. All you have to do is
Go to https://www.surveymonkey.com/r/IntlToiletTourism2021 
There are 6 categories to enter
Best Tourism Economic Contributor (For when people stop at a toilet in a destination and stay on to spend more than a penny)
Best Location (Where the toilets have views and may be considered an attraction in themselves)
Best Design (Architectural brilliance in toilets, visual design and creativity)
Quirkiest Toilet Experience (Relating to local heritage, fun, or otherwise noteworthy)
Best Accessible Toilet (Supporting the idea of tourism for all)
Strategic Commitment To Toilet Tourism (Destination or Business whose strategy shows best overall understanding or commitment to the idea of toilet tourism)
We also have a People's Choice Award where members of the public can share their favourite toilets.
The overall winner will be selected from the category winners.  Winners get free access to MyTravelResearch.com products and a certificate.  We make a $2,000 donation to a charity linked to UN projects that align with our values.
Entries close on 15th October – Global Handwashing Day.  Results are announced on World Toilet Day – 19th November.
May the best toilet win!