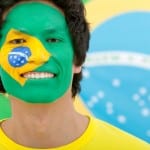 At 4.30am on Saturday, all three household members here got up to watch defending World Cup holders Spain play the Netherlands (who they defeated in the final in 2010), ahead of seeing the Socceroos play Chile. We were among probably 200 million people around the world who did so.
The Spain-Netherlands game was thrills and spills all the way with an unexpectedly large goal difference at the end. It was a reminder of why football IS the world game.
But my attention was also caught by the Nike ads in the commercial breaks. The ads are actually a trailer for a 5-minute animated film called 'The Last Game'. It forms part of a 'Risk Everything' campaign that has been gradually building up to the World Cup. The ads intrigued me to the point where I logged onto YouTube to check out the film. You can do the same here.
I wasn't the first. A whopping 2.3 million others had done so ahead of me. More than 50,000 had liked the video; outnumbering those with a thumbs-down symbol by 10 to 1. There were also links onto Nike's own assets to invite you to engage – and buy.
So in terms of engaging interest Nike clearly is on to a winner. This is something my business partner Bronwyn White has talked about in her blog pieces on using social media to build relationships and create your own assets.
Consistency In Building Your Brand Is The Key
But what really impresses me is the consistency with which Nike deploys these assets to reinforce its core brand position. Nike seeks to position itself as a 'hero' brand (as defined by former Y&R strategy creatives Mark and Pearson). Hero brands fulfill our need for bold self-expression.
This new campaign tells a classic hero story. Scientific clones take the risk out of football: achieving success but making the game so boring that everyone stops watching. Nike's brand spokespeople (e.g. England's Wayne Rooney, Portugal's Cristiano Ronaldo, Brasil's Neymar) unite to create a team that electrifies the stadium and wins the game by taking risks. The short animation uses music, words and images to create a consistent sense of the value of taking risk.
So effectively is this approach that I had to go and check whether they were a World Cup sponsor or not. They are not; rival brand Adidas has paid for the privilege of being the sponsor.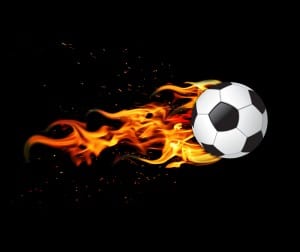 Instead, Nike has become a broadcast sponsor – which evidence suggests has as good or better ROI.
They are also smart at making it relevant to different cultures. During the Asian Games and the Olympics, their campaigns in China were deeply grounded in the understanding of how the Chinese view heroes (succeeding for China rather than for themselves). The campaign used Liu Xiang, a medal-winning hurdler to tackle negative stereotypes about Asia. Its position was simple and memorable: "Asians lack muscle? Do Asians lack the will to win? Stereotypes were made to be broken!" This approach has enabled Nike to become one of China's hottest brands.
Similarly, the company connected with women athletes during the 2012 Olympics with its Voices campaign. Views of the video were boosted by sharing from women's advocacy groups like UltraViolet, many of whom had previously been very critical of Nike. I can't watch this ad without feeling a deep well of emotion.
You can understand more of how they did both campaigns here.
When I use examples like Nike in articles and conference presentations for the tourism industry, I am sure people roll their eyes. Nike has millions of dollars to spend, whilst the tourism industry runs on the smell of an oily rag. I can almost feel people thinking 'how can this be relevant to us?'
My counter-argument is that we can use Nike's investment as a free learning tool – and apply the lessons to our own businesses. I am sure Adidas has also spent millions of dollars promoting their connection to the World Cup as well – but I still had to look it up to find out they were a sponsor. Similarly, Ansett spent $50 million dollars sponsoring the Sydney Olympics – and Qantas famously 'stole' it by thinking about what it means to connect with Australians.
Actually, the consistency with which Nike applies understanding of the consumer and of the need its brand fulfills is even more important when you don't have big dollars to spend. Every dollar you spend that doesn't resonate with the consumer is a dollar wasted (at least in part). The mistakes are larger and more significant if you didn't have a lot of dollars in the first place.
So the lessons are:
• Understand your consumers
• Understand what they are looking for from you at an emotional level
• Understand how you can deliver to that need in a unique way
• Ensure that at every 'touchpoint' (ads, assets like websites, social media, the experience itself) you embody that experience in a way that has core consistency, but is relevant to the consumer you are targeting.
(If you are a MyTravelResearch.com member, you can also check out my presentation on the success factors in tourism branding)
I passionately believe that every business can optimise its return on investment by following this approach. As the heading says, big bucks help but they aren't the whole story.
Oh and good luck to everyone in the World Cup – unless you are playing England or Australia!
Do you want to hear more from us? 
Want to be kept up to date with the latest travel and tourism insights? Join Our Mailing List. Every 2 weeks, we send the latest practical insight for you to apply to your business and destination marketing.