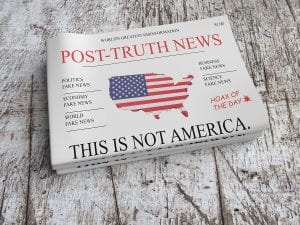 In 2016, a new word entered the English language: post-truth.  In fact, it was Oxford Dictionaries' word of the year.  It reflected the idea 'objective' facts no longer matter as much as what we believe is true based on what 'ought' to be true.
Actually, this is the culmination of many years of psychological research in which we understood that consumers fit things into a narrative they already have. One common cognitive bias is what's called confirmation bias: that we are more likely to believe things that confirm what we already thought than those which contradict that.
What happened in 2016 was the consumers themselves stopped feeling the need to apologise for that.
Like many trends, this one doesn't come alone. It's built on a variety of other trends we identified when we put together our Marketing Plan Blueprint for tourism destinations.
So are we saying it is OK not to tell the truth in marketing? No we aren't! What we realised when we researched this trend is that what it means is that consumers are increasingly looking to understand where brands stand – so that they can see whether they fit into their world view?
So does this trend matter for you? And if it does, what should you do about it?
Here are 3 reasons post truth in tourism does apply to you:
Research by Unilever estimates that 33% of customers choose brands based on their social or environmental credentials (Source: Trendwatching). Their social marketing initiatives like the pop up loo we featured in a previous blog post are a great example of how to tap into this (see image).  Even more importantly, some customers care more than others.  The evidence is that the travellers who care most about this are a) often the most affluent and b) the most influential.  By showing what you stand for you are connecting with some of your most important commercial customers. 
If you aren't thinking about this, your competitors probably are. So by not thinking about it, you are potentially giving your customers an edge.
Taking a stand on issues can be empowering for staff – especially Millennials and Gen Y. So it can help you win the war for talent.
The even better news is that many of the actions you need to take to incorporate this trend into your planning are ones that you should be taking anyway.
The vital role of tourism branding
In both our Marketing Plan Blueprint and our 5-step Tourism Marketing system, we talk about the importance of branding and understanding your customer in clear, concrete detail.  So in deciding how to take a stand on issues, having taken these steps will make it easy for you to understand how to take a stand on key issues. 
If you know who your customers are and what your brand values are, you can make a decision on what you comment on and – just as importantly – how.  It can also allow you to work out what you have permission to say and what you don't.  Think about how your customers would react to this issue and what they would expect you to say about it.
A good example of this is the response that many US destinations have made to two policy decisions of the Trump administration: the travel ban and the decision to withdraw from the Paris Climate Change Agreement.  They have explicitly identified that they have more to lose than gain by keeping silent and have launched communication campaigns that reflect this.
And you can even take a stand without taking a stand. JetBlue and Heineken are both brands who have used their broad customer bases and attributes of their brand to position themselves as brands that clear up misunderstanding and remind us of our common humanity.  That's a powerful message for any brand.
The key caveat (and if you know your brand and your customer this won't be hard for you) is not to be opportunistic.  Your approach should be sincere and relevant – consumers can sense a bandwagon jumper a mile away.
So hop on one of the world's fastest growing trends and show what you stand for. It can really help you deliver.
If you are a member of our Premium Trends and Insights Hub or Marketing Plan Blueprint you can get more details on how to exploit this trend by listening to the video recording or downloading the powerpoint deck. Just log in on the links above.