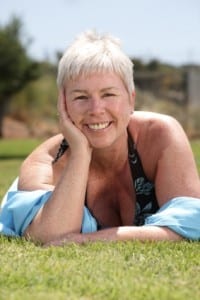 As a tourism professional, you're stretched for time, budgets are tight and you have competing stakeholder needs so marketing persona will be out of your ideas yet. You may not have the time to trawl through hours and hours of research to create and trends to create a best practice and innovative marketing plan.  Here is the secret:
All successful marketing strategies begin and end with the CUSTOMER.
As busy tourism marketing professionals, it is easy to forget.  Your customer is absolutely central to your marketing NOT your product or service and all the other stuff going on around you.  
Without customers and travellers, your business just would not survive.  As strange and obvious as it sounds, we find that many tourism businesses and destination marketers do not place enough importance on the one success factor that is critical to survival of any business or destination marketing – understanding the customer.
Lack of money, lack of time, not establishing a marketing persona and purely relying to 'marketing to myself' syndrome, competing stakeholder needs or perhaps an overwhelming sense of 'where do I start'….. We have heard and seen it all as reasons not to keep the customer central.  But, we like to tell our travel and tourism friends that well,  marketing is your job.
By knowing your customers and what drives them intimately you will be able to prioritise not only what you spend on your marketing but where you spend your all important valuable marketing time too.
Having a clear marketing strategy with the customer at the centre provides a road map to delivering true value to all of your customers.  Every business decision you make should have your customer persona(s) at the centre.
You can't be all things to all customers.
This will dilute the value of your marketing.  It is also difficult to find a marketing position as a one size fits all.  Therefore, it is far more efficient on your time and money, to focus on a few key target markets or personas.
 A persona is like a person, group of people or someone who belongs to a certain interest groups. Think of a persona like your best friend or better still, your fictitious business partner.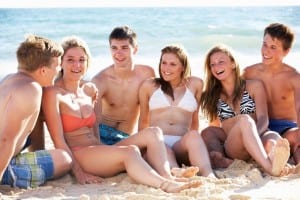 You need to run all of your business and marketing decisions by them first. The aim is to create a profile or two or three…that represents your customers, their feelings, pain points, thoughts and views.
When you create your marketing persona, get to know them and their characteristics, it can help you make the best possible marketing decisions for both your customer and your business.  By creating a persona for your product or service you are able to make decisions with clarity, with your customer at the centre. 
As silly as it seems, they should become your best friend.  Each time you make a marketing decision, you need to ask yourself:  'Would my persona like this?'
What is Marketing persona?: They may be simple or complex characters. 
They can be defined by any or a combination of the following descriptive characteristics:
Demographics: income, age, level of education

Attitudes to life, attitudes to holidays, needs from a specific holiday (e.g. a romantic break vs. a family holiday)

Social media habits

Special interests

Internet habits and interests

Sociographics: How strong is their ethnic affiliation or how religious are they?

Media consumption habits: What do they watch, read or listen to?

Product purchasing habits: How frequently do they buy a holiday or how often do they travel?

When do they travel?

Category involvement: How important are purchases in your category to the buyer?

Product preferences: What characteristics are the most motivating for customers?

How do they source information about their holidays?

What sort of content do they like best to consume?
The key is to paint a picture of the person or people that represent your customers.  And then, you can make decisions based on whether or not they would like it or if it would be good for them.
Think about the personas that have the most potential to be profitable for your business

You can use freely available information on the Internet to find out about them alongside information you collect about them along the way.
Meet Bob and Shirl
Bob and Shirl are our favourite senior travellers, just don't call them senior.  We know Bob and Shirl very well.  Here, they are presented as travellers who are a part of the travelling with pets niche market – a growing and popular market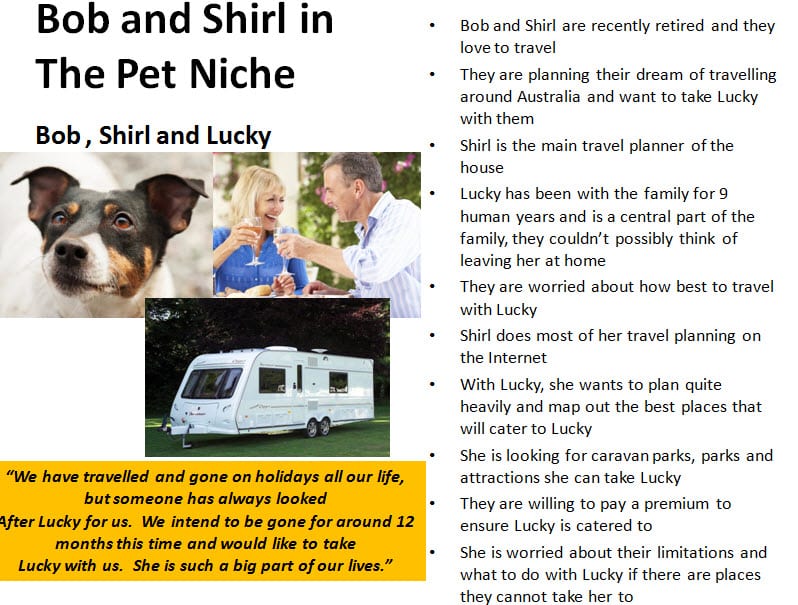 But Bob and Shirl sometimes appear as VFR Hosts as well as senior travellers.  Their mindset changes often depending on their travel needs.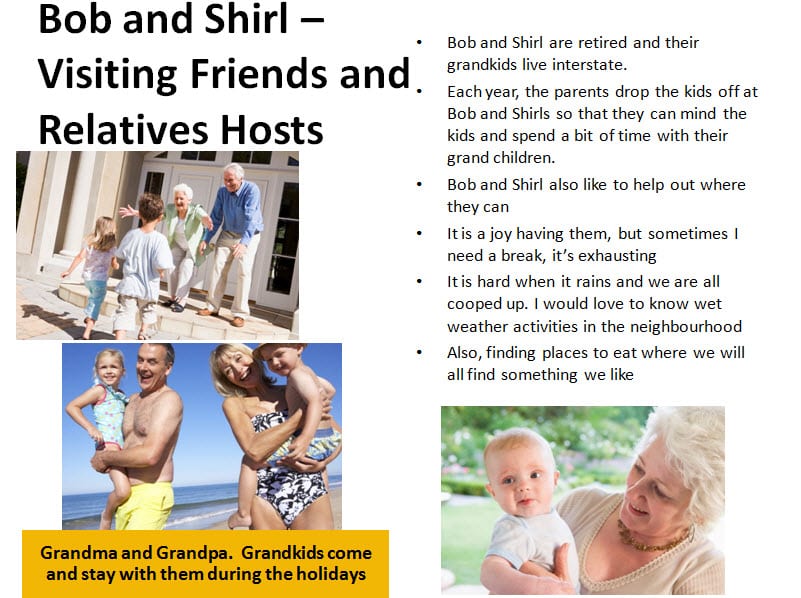 How to create a Persona?
By creating a persona especially a marketing persona, giving them names and visualising them, it is easier to do your marketing – it also makes it a lot of fun.  By visualising and getting to know your persona, it will be easy to cater to their needs.  Consider them to be your best friends and make all of your marketing decisions with them in mind – asking yourself "would they like it".
As a travel marketer, you need to show them how your product, service, or destination can solve their problem. What are their pain points and concerns?  How can you help them?  A few examples could include:
I'm worried about my dog – it is stopping me from travelling, how can I take my pooch with me?

I'm worried my kids will be bored, is there enough to do while we are there?

What if it rains? Is there stuff to do, is there stuff for the kids to do?

What if we break down in the middle of nowhere?

I don't feel confident in parking my new caravan. Do you have a parking service?

I want to do it, but can't really afford it. You might have great low season deals?

I'm stressed and need a break

What are some of their unique needs? For example, an empty nester couple or parents on a romantic break might like accommodation that is kid free,
You need to be constantly thinking about your customer, their pain points, likes and dislikes.  Do you know what makes them tick and what drives their decision making?  If you don't, it's time to start getting to know them a little more.  Knowing your customer and traveller as well as you possibly can help make marketing decisions much easier and drive visitation and revenue.
I would love to know about your experience with marketing persona.  Do you have one you could share?
Members.  We have created a very comprehensive , along with a few well researched examples.  Download the file from your premium membership hub.
---
Do you want to hear more from us? 
Want to be kept up to date with the latest travel and tourism insights? Join Our Mailing List. Every 2 weeks, we send the latest practical insight for you to apply to your business and destination marketing.