Did you know that shopping and eating at restaurants / cafés are consistently rated as the top 3 activities that people partake in during a holiday or vacation?  We often think travel is all about attractions, museums, and tours, however, Destination NSW tells us that the top 3 activities undertaken by domestic visitors (local tourism) to Sydney are:
Eating out, dining at a restaurant or café
Visiting friends and relatives
Shopping for pleasure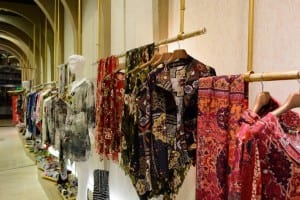 You will find that these stats are more than likely to be similar in your own city or destination's local tourism, wherever you are in the world.  Even in New York, the top 2 activities are shopping and eating out – followed by historical sites, sightseeing, and museums.
In many outbound markets like China, shopping is consistently the number 1 activity by far, with 88% of Chinese visitors rating shopping as the number 1 activity.
Of course for Chinese travellers visiting Australia, all of this shopping and eating out is combined with sightseeing and other activities. One of these is visiting some of Australia's iconic beaches like Bondi Beach. But it reminds us that we need to get back to basics and focus on some of the seemingly mundane activities a little more – shopping and eating out – the local stuff.  The more shopping and eating out available to the traveller, the more likely they are to stay and spend.
So this brings me to look at how it all relates to local.  Travellers all love a local secret. The local shopping precinct, the local 'best' café or barista.  In the numerous focus groups we have conducted, we often find the trip highlight involves that secret place in the national park tourists were told about by a local in the pub – the place not on the tourist map, or the steak at the local pub that was bigger than the plate it was on!  
There tends to be a common theme which involve local activities, local people, and local love.
Local Tourism Trends
In one of their key local megatrends, Trendwatching tells us:
"Despite globalisation, despite online; place still matters. Whether driven by a sense of pride, authenticity, convenience and/ or eco-concerns, travellers and consumers will continue to embrace 'local' products, services and knowledge."
This trend also extends through to travellers looking for local tourism experiences. Local can also translate to authentic.  Travellers are looking for local tourism icons and authentic local experiences. Locally-produced goods offer travellers a sense of authenticity, community, and connection to the place.
It's Time for Destination Marketing to Go Local
Focusing on the local stuff offers easy, cost-effective marketing for destination and travel marketers.
There is no need to go and create new tourism products or services, new trails, or new campaigns.  Work with what you've got.
However, it makes sense to leverage and bundle food and shopping with your other experiences and attractions – this makes your offer all the more compelling.
With all this local talk, it is time for destination marketers to get the local tourism and commerce industry to fall in love with the local stuff – the shops, cafés, and restaurants.  Your ROI will be greater.  The more it is for travellers to do, the more likely they are to stay and eat, shop, and spend more.
Get your locals to try to understand the importance of their shops, restaurants, and cafés in the scheme of the local visitor economy when they are in the destination. Consumers and travellers naturally want to know what's going on around them, whether it's sales or promotion time or finding out what's on the menu at nearby restaurants.
Around 90% of travellers say they use their mobile phones when on holiday and more than a third of the world's travellers use their mobile devices more while travelling than while at home.
Now, with the widespread use of the smartphone or other devices, travellers can access information on the go and constantly broadcast their location using a host of tools.
These tools include local-themed travel apps like the Bangkok Street Food App.   Street Food Bangkok is a free app showcasing around 150 shops and stalls serving local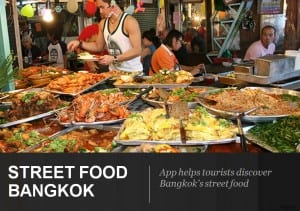 foods. The mobile app works in partnership with Google Maps. All in-app content is available in Thai and English, allowing tourists to easily share locations and addresses with taxi drivers. Street Food Bangkok was developed by the Thai Ministry of Foreign Affairs in partnership with the Thailand Foundation, the Tourism Authority of Thailand, and the Bangkok Metropolitan Administration.
On a practical level, travellers increasingly need information in regard to their surrounding areas to orient themselves and feel in control. Nobody likes getting lost, not knowing where to buy groceries, where the gym is, etc.
How local tourism could apply to where I live – Newtown Sydney
Our office is in Newtown, Sydney.  There is a part of the King Street shopping precinct that is filled with vintage dressmakers, vintage / retro reconditioned clothing, vintage hairdressers, tattooists, vintage homewares, and all things vintage.  I often wonder why they don't work together, form an alliance, or some sort of vintage social media campaign. But too often, locals see themselves as competitors, or perhaps they just don't see themselves in tourism.
Also, many of them are without a web presence – not even a website! 
I also notice that many businesses in this trendy, hip part of Sydney have not been optimised for local search.  Many businesses have not claimed their Google My Business pages – there are no reviews, or if there are, only one or two – no content.   There are businesses that have closed down and there are businesses that simply have not appeared on Google Maps.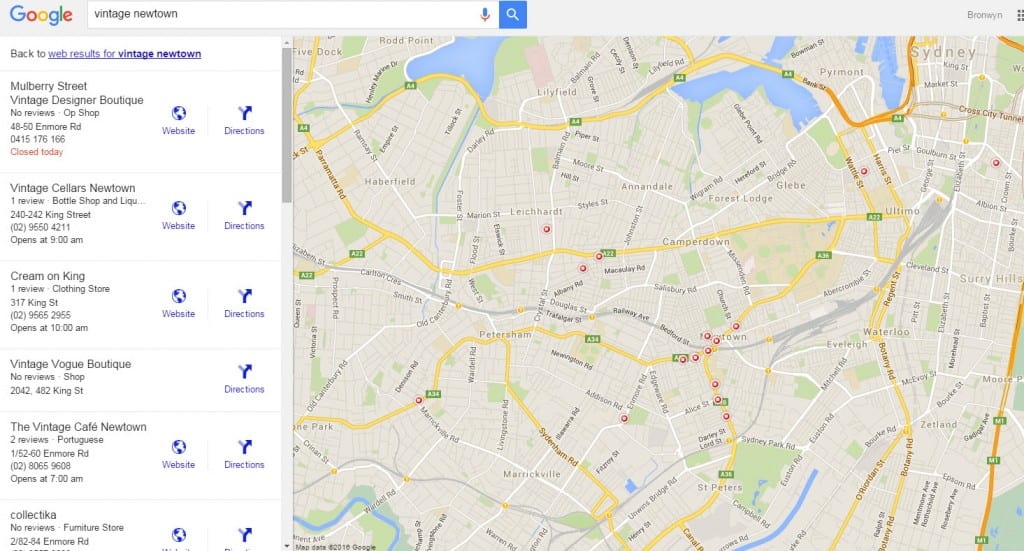 As a result of this, at events like the upcoming Mardi Gras, many of the local businesses – cafés, shops, restaurants, and galleries will simply miss out on business.
It is your job as a destination marketer to help your local commerce and tourism industry understands the importance of working together to form a strong, compelling proposition.  
It is also your job to ensure all the shops, restaurants, cafés, petrol stations, bakeries, 'hole in the wall baristas', tattooists, local designers, and even local services like vets (think travelling with pets) and doctors (seniors) are optimised for local search.
Local is mobile
In a recent study, Bright Local found that 61% of people are more likely to contact a local business with a mobile site.  They are looking for information, reviews, maps, and physical addresses.  As obvious as it seems, businesses do not always have these things.
Whether or not they are food or shopping related, it makes sense to ensure local businesses are optimised for mobile – travellers will be looking and searching on their mobile devices.
Insights to Action
How to Optimize Local Tourism Search?
These tips will ensure your business shows up when travellers are searching for information on their mobile phones.  Simply put, if you do not do these things, your business is not even going to make it to the consideration set.
Make sure your destination is on Google Business Profile.
Ensure you populate the Google Business Profile listing with GREAT content, including photos, videos, and sample menus.
Ensure you encourage reviews on Google Business Profile. You need at least 5 reviews before stars are visible.  Stars matter and so do reviews.
Encourage reviews everywhere – Facebook, Tripadvisor, Yelp
Ensure businesses are mobile friendly – if your business is not mobile friendly, impatient travellers will find a business that is.
---
Do you want to hear more from us? 
Want to be kept up to date with the latest travel and tourism insights? Join Our Mailing List. Every 2 weeks, we send the latest practical insight for you to apply to your business and destination marketing.