Globally the influence of Millennials in tourism & travel and on marketing has been profound. In the US, Millennials are as large a generation cohort as Baby Boomers. In China, they are a smaller generation numerically thanks to the one-child policy. But as the first generation to benefit from China's astonishing economic growth, 80's children (as they are known) are a wealthy and high-consuming group.
The word Millennial has almost become synonymous with youth. But that is about to change. Millennials (Gen Y) were; broadly speaking born between 1980 and 1995. So the upper end of this cohort is now entering its mid-30s. This Generation (people sharing the same birth years and thus formative influences) is about to collide with the life stage (the needs that relate to age).
So as an industry we need to plan for this tectonic shift in three broad areas:
What will happen to their travel behavior as they become parents?;
What business travel will look like as Millennials occupy the 'peak of influence' and finally
The human capital development implications when Millennials are the majority of managers and leaders within our industry.
Millennials as Family Travelers
As Millennials become parents, their needs and values often converge with those of other generations. Where they
once sought 'cool' brands, their brand choices often move to the mainstream as parents.
They also become more value-conscious adopting a 'trading up, trading down' philosophy. They will save on the elements they value less while continuing to focus on spending on the experiential elements.
Food, in particular, continues to be a driver for Millennials when they travel – and as parents, they are also very conscious of nutritional choices for their families.
Millennials were slow to leave the parental home compared to earlier generations. When they did so, it was often with the help of their parents. As a result, they remain close emotionally and financially to them. As parents, this has driven the phenomenon of the multi-generational family trip.
The cruise industry has been adept at developing products that meet the needs of this trip – with multi-bedroom suites and larger cabins. It is not just about the hard products. In focus groups, we often hear that an absence of pricing and booking services that recognize more complex family structures is a key barrier to purchase. It is important to show that you welcome multi-generational groups as they offer a more superior ROI than smaller family groups.
Reliance on technology to smooth the experience and for sharing it is one element of Millennials' lives that survives parenthood. Eighty-one percent (81%) have shared family experiences on social media. The travel industry must continue to place technology at the core of the offer and create opportunities for such sharing of experience. In the age of semantic search, this will also drive your rankings for family-friendly travel. 
Millennials Become the Core Business Travel Market
Millennials actually began their peak business travel years earlier than previous generations. Their expectations of early responsibility and a fast-growing world economy meant that many found their place in the business travel community earlier rather than later. Whilst the global recession had slowed this impact, younger entrepreneurs in emerging markets (especially the '80s children' of China) and the growing importance of technology companies ensured that they continued to play an important role.
That role is only set to increase. BCG estimates that Millennials already account for a third of spending on business
flights and projects that this will grow to half by 2020. We can expect the same will be true of spending on hotels. Millennials have historically valued authenticity and experiences.
As business travelers, they have also been willing to pay for a superior experience. In an analysis of OAG Flightview data, Skift found that 60% of Millennial business travelers had paid a premium for services. The benefits they are most prepared to pay for are those that improve the smoothness of their trip, that enable them to customize the experience to their personal needs, or that support their appetite for technology.
They have also grown up valuing cooperative environments. This has increasingly been reflected in their working lives. They want spaces to collaborate and share and are looking to hotels that can offer this.
The value they place on authenticity means that they also want to stay in hotels that have a 'sense of place'. In fact, it may be even more important that hotels provide this given the demands of business travel.
The ACE Hotel in New York has done a great job of providing both that sense of local authenticity (loft space rooms, New York edgy design) and common works spaces where Millennials can interact. Such facilities can also drive local footfall to your food and beverage outlets.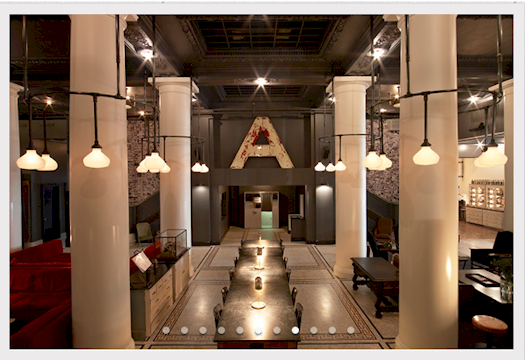 Source: ACE Hotel website
It is not just boutique hotels and groups that are riding this trend. The major hotel groups are getting in on the act. Tru by Hilton is aimed at the Millennial business traveler and aims to please by providing a strong sense of place and collaborative service and technology as key elements of the offer.
Millennial business travelers expect free, high-speed Wi-Fi as a basic service in hotels where they stay. It will not be acceptable to charge for WiFi for this new generation of travelers – and they will be very willing to name and shame hotels which do so via social media. One way to manage this economically may be to offer options.
As a Millennial colleague attending an international meeting in Washington DC with me recently said "I walk into a room and there is a TV with access to 20 paid channels. They are prepared to offer that for free but they want me to pay for Wi-Fi? Give me the option. I'd choose the Wi-Fi anytime. I'm here for business – I don't need to stream movies but I do need Wi-Fi."
Loyalty programs also need to adapt to Millennial business travelers' needs. It's commonly felt that Millennials are not brand loyal. That can be a misconception. Millennials are loyal to brands that have shown loyalty to them by aligning with their values, needs and preferences. They expect faster access to a wider range of benefits and more ways to redeem points. This is a generation that grew up in an age of co-creation and the ability to blog. They want to put their spin on it or have the experience tailored to them.
According to Deloittes, 66% of Millennial business travelers are looking for unique benefits. Airline loyalty programs have been early to exploit this desire as compared to hotels. Emirates' High Street and Qantas Frequent Flyer programs both enable travelers to redeem their points for a wide range of retail goods – and tailor their offer based on profile behavior.
Millennials as Managers and Leaders
Many of the traits that are relevant to targeting Millennials as business travelers are also relevant to their role as managers and leaders in the hotel industry.
They will want to work in more collaborative ways with their staff rather than in hierarchies. As the children of
helicopter parents, they also want to live in a continuous feedback loop rather than wait for an annual or bi-annual appraisal. Our appraisal systems and management structures will need to adapt to this expectation. On the positive side, this nurturing and supportive approach is likely to work well in the battle for talent. The misconception that Millennials are not loyal as travelers applies to their role as managers as well. They will be loyal but they need to see opportunities for leadership and work for companies where they can be proud of the product or service. Sixty-eight percent (68%) of Millennials think that they are the most passionate employees a company can have. The key to success is harnessing that passion.
Careers in hospitality have traditionally required long hours. But again there is good news for hotels as Millennials take the reins. Millennial management expert Chuck Espinoza says that whereas Generation X sought a work-life balance, Millennials seek a work-life blend: "They don't mind accessing their work-life during their personal life, but they also want to access their personal life during work,"
Silicon Valley companies have been successful in managing a long work-hours culture by meeting this need. We need to be more like Google. Access to facilities on site like gyms (an easy win for many hotels), a sense of purpose, a strong team ethos, and opportunities to learn are all elements the hospitality industry can adopt.
Millennials have probably been the most influential generation in marketing that we have ever seen. As their needs and behaviour change that will continue to be true. Hotels need to be planning for those changes now.