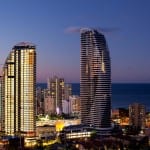 In this article, MyTravelResearch.com spent some time with Ken Minnikin, the Head of Marketing for the Mantra Group.  Ken was extremely generous with his knowledge and shares many of the tactics the Mantra Group uses to grow and strengthen the brands of Peppers, Mantra and Breakfree in a domestic market where decline in visitation is common.
There is plenty in our interview that you can apply to your business whether you are large operator or a small B & B.
5 Key Take-outs from Ken include:
Research underpins all business decisions
The customer is central to everything
Much of what the Mantra Group does in terms of marketing is available to everyone for free
Respect all reviews, regardless of being positive or negative and always respond to negative reviews
Ensure your staff understands why you are asking them to do things like collect email addresses.
Bronwyn: Why don't you tell us a little bit about yourself and your back ground.
Ken: Without giving away my age, but I do sound very old, and I am.  Well I started off in the advertising industry in the early 80s.
Bronwyn: Did you have a ponytail?
Ken: I did have the long hair, it's a shocking look and I hate to be reminded, and the cheese cloth pants and all the rest. Yes.  And then I realized after a number of years that it was better to work on the client side than the agency side because you get to then boss around agency people which I think is so much more fun.
I was fortunate enough to join Warner Brothers and Village Roadshow working initially in their theme park business and a number of other of their businesses, and I ended up staying with them for 14 years which was a wonderful time for me. And I learned a hell of a lot from some very good marketers, but then I thought it was time to do something else, and that's basically how I ended up in the hotel game.
I've been with the Mantra Group now for a little over 5 years.
Bronwyn: Mantra Group is doing big things really at the moment – diversifying and acquiring and all sorts of businesses, tell us about that.
Ken: Yes, we're the second largest hotel group in Australia.  Our head office is here in Australia, and we manage over 110 hotels in Australia and New Zealand. And, we are expanding into Asia.
Bronwyn: I came across a press release late last year informing us that Peppers Broadbeach increased their occupancy levels by 52%.  It is going against the trend of much of the tourism industry.  Most of Australia at the moment is either stagnant, in decline or growing in very small numbers.  Can you tell us a little about this?
Ken: As I mentioned earlier, I've been working for Warner Brothers and Village Roadshow.  The people I reported in to and was fortunate enough to have worked with were actually from the film production side of the business, and in the film industry they spent a lot of money around research.  And particularly with films, when you're investing in some cases over 100 million on a film you do a lot of research to make sure it's going to work
So from them I actually learned a lot as far as the research and how it can work for you and how it can help you with your decision making, and got very much committed to what you can achieve.  In those days with Warner Brothers, we had huge budgets when it came to research.  These days, within the Mantra Group, we don't have the same sort of budget. However, it is a lot easier to do your market research than ever before.
Bronwyn: How has that changed, in what sense?
Ken: Well just with marketing generally, your ability to communicate with your guests, with your clients has changed. The web has changed just the way we do so many things in so many ways, and research is definitely one of them.  The days in the hotel game, once you used to depend very heavily on a guest filling out a guest comment card.
The reliance on those cards is very different these days.  To understand your guest and their opinion of you, you cannot afford to rely on that information.  These days you have websites set up that are monitoring on a continual basis. The biggest one that everyone in the hotel game depends very heavily on is obviously Tripadvisor, and basically that provides a vehicle for consumers to make comment on your particular property.
Bronwyn: So you consider Tripadvisor a big part of how you find out what your customers are saying and what they want?
Ken: Very much the case.  We actually have a program, a company that works for us. Apart from Tripadvisor, they basically review all of the social media platforms.  So every week I get a report on a Sunday night, which is always fun to read, which basically they scout all of the social media and advises us on all 110 plus properties on what people are saying about us.  At the same time we have individual property managers who are getting this report as well, and in some cases on a daily basis because it is that important understanding what our guests are saying about us.
And we also learn about our competition as well.
Bronwyn Tripadvisor is fantastic because obviously you're a big company, but it's free and easy for some of the small operators to go on to Tripadvisor and have a look at what people are saying about them, what they're saying about their competitors as well. And the other thing too is again if you don't have the funds to have a big outsource firm doing social media monitoring, you can go to Google Alerts which is also a free service and monitor what people are saying about you online as well.
Ken: And that's exactly right, and look this is a particular service. We only put it on about 12 months ago now.  And yes, I used to spend my Sundays doing exactly what you're saying.  You have Google Alerts, and we still have media monitors as well, so we're measuring what the media is saying about us at the same time. But yes, to spend my time now and select certain properties and go and have a look at their Tripadvisor, what was being said there, what's being said on Wotif If and all the other different platforms, and we have a number of different criteria that we measure, whether it's on the brand strength, whether it's on cleanliness of rooms, food and beverage.
Bronwyn: Yes, and it's really interesting that you're talking about this whole emerging field of reputation management.  The question I get asked a lot from operators, when you get negative reviews, what do you do and what do you advise people out there to do with your experience?
Ken: You have to be honest with yourself, that's number one.  And for someone to have taken the time, and we know some people are I'll use the word whining, but that's important…
Guests have the right to make a comment, and you need to understand that it is our responsibility to look at these sites and these comments and get back to the people.
We do have a system in place where when people are checking out we ask them immediately how their stay has been, have they got any concerns, etc. and we try and deal with those immediately before they've actually had the opportunity to go onto one of the sites, which is the best way to handle it. But if they have gone onto the site, you need to investigate what has been said, why has it been said, and understand if there is an issue there. In most cases there is, and the consumer does have that right. And it's just a matter of dealing with it.
Bronwyn:  So do you reply online if there is negative feedback?
Ken: Yes, we do. If there is any issue positive or negative you should take that time to reply.
Bronwyn:  That's great advice, because a lot of people just don't know what to do.  And I guess just take the emotion out of your reply to them as well is really important.
Ken: It is you know.  There are certain people that definitely shouldn't be replying.  Again look at it honestly and as you said take that emotion out of it because you can go too far defending yourself.  Just try and understand what the particular issue is.
Bronwyn: I want to talk about that is the recent campaign with Peppers Broadbeach. How did you increase your occupancy levels by 52%?
Ken: First of all it is a great product and we have ensured that the services that we provide there is state of the art, and we do very much a listen to the guests and what people are looking for within our whole group.
Our positioning line is knowing what matters, and knowing what matters is basically researching all of our different and with Peppers Broadbeach, because it was a new build we had the opportunity to do that and to offer the services that people were then crying out for.
You have some wonderful properties that are here on the Gold Coast and it's a very competitive market.  So as far as this particular property is concerned, it is positioned very much as a luxury stay.  It does cater for couples but very much it also caters for families.  We have got the best product offerings there.
Our research showed there as far as the price point what people were willing to pay.  It also showed what facilities they were looking for.  And basically we were able to cater for all of those.  There are 26 Peppers properties throughout Australia and New Zealand.  Within our group we have a database of over a million people through email.
It gives us the ability to target our guests with a message.  We obviously dissect that market, that data base, and determine what people are looking for.  So we've been able to do that.
So yes, occupancy is quite incredible not only for the Gold Coast but for any hotel in the nation.
Bronwyn:  So when you're doing your research to find out how the best mix of product, right people, price, promotions.  How did you do that research?
Ken: Actually there are a lot of tools that are available within the hotel industry.  We collect data again from all of our competitors as far as the pricing is concerned. You understand what has been done in the marketplace.  And we had an opportunity to do a little bit of testing as far as price range is concerned because of the database again.  We also operate a number of other properties here on the Gold Coast so we knew what works as far as price point is concerned.
Bronwyn: What type of research you used and conducted?
Ken:  We do research on the Peppers brand as well.  That is qualitative research.  And we also do some quantitative on that as well in the old traditional ways.  There was a lot of trying to understand as I said what mattered to guests who wanted to stay on the Gold Coast but also wanted to stay in the Broadbeach area because the Gold Coast is divided into a number of different sectors and people are looking for different attributes from each.
Bronwyn:   And did you use the database as well?
Ken: Yes.
Bronwyn: That's the importance of collecting those email addresses, but no only collecting the email addresses, when you do, asking them if they'd be willing to be contacted for market research.
Ken: Again, you've got these guests staying with you. That's why we spend a lot of time educating our reception people so that they understand why we're doing things.  It wasn't so long ago we were looking at our email captured rates. They were quite low.  We put a program in place first of all educating people on why we were trying to collect this data and then demonstrating to them how we use the data. And now we capture close to 90% of all people's email addresses that are staying with us.
Bronwyn: Yes, that's really key to ensure all of your staff are involved.  Not only that they're involved and they're going through the process but understand why you're asking them to do these things.  It's really important.
Ken: And the same goes when people are checking in and checking out, you have that opportunity to talk to them.  Now in some properties, particularly with a corporate traveller, they just want to get in and get out as quick as they possibly can.  You'll find with the leisure stays, the guest actually does like to be communicated with in a friendly atmosphere, talking about the rate, talking about what they're looking for.  And you can gather a lot of information that way.
Bronwyn: Yes, just by informally asking questions that way. That's market research.
Ken: Every time you're communicating with a guest or anyone to us that's market research.
Bronwyn:  So obviously you used a mix of paid and free tools when deciding how to conduct your marketing campaigns.  What are some of the free things? You had your database, so you collected the names.  Did you use any other research in the market at all?
Ken: Again, we're fortunate, everyone is fortunate. Social media is huge.  What you can gather and learn from Facebook. We have Facebook pages for all of our brands, restaurants, etc.    It's amazing what people are willing to comment on and give you feedback on.  We have someone who works the pages and they're just asking questions from different times helping people out and it makes a huge difference.  Again, go on Tripadvisor, have a look at what people are saying about your competitors.
 All those things are free. Yes it does take a little bit of time, resource time that way.  But anyone can do it.
Bronwyn:  So when it comes to your customers and this particular campaign, did you do any customer profiling at all?
Ken: Yes, we do.  We work with a company who analyses all of the data that we collect at check in. So basically we are looking at all that data, where those people are coming from, what are the attributes of the suburbs, etc., etc.  And you know that information obviously through the census data that is collected matched against that, we can tell a lot about our guests.
From the Peppers Broadbeach example, again we do have a number of properties in that region, so we were able to compare who was staying in Broadbeach, who was staying in other places within the Gold Coast region, marrying that against other Peppers properties that we had, and we build a profile on the kind of people that will stay at these properties. And look, it's interesting when you talk about a luxury product.  People immediately think that it's only high income earners that stay. That's not the case. People aspire to be able to stay at these properties and the message and how you communicate with those people is different. But there's a huge market that we've been fortunate enough to attract to our properties.
Bronwyn: That's a really interesting point actually.  Sometimes it's the attitudes and the aspirations rather than the household income that determines where people stay.
Ken: Correct. I always get amazed. You know you talk to people staying at the properties and a lot of them have saved very hard to be able to stay and it's a special treat. We know that. Particularly when you get a couple who's getting away, and that can be mom and dad, it doesn't have to be a young couple without children.  Couples getting away and staying at properties, and Peppers Broadbeach there are a lot of people staying, and then celebrating a particular event is big.  And then you've got the families, and we've been fortunate enough to be able to marry those two with a product like that.
Bronwyn:  What are your can't go wrong tips for businesses out there in terms of marketing to the tourism industry?
Ken: First of all never make decisions based on what you think yourself and what your own desires are, etc.  You need to do the research and understand who your guest, consumer, client is going to be.  As I said, knowing what matters, what is important to those people is just imperative.  And the more information that you can gather, the better it is. Take the time to build that knowledge base, and then take the time to research.  I'm a big believer in post research, understanding what has happened after someone has stayed with you, understanding when you're fortunate enough to be able to run those campaigns.   We've done a of research on Pat Rafter (spokesperson) and how he related to our product…. and how consumers related to Pat, that was prior to us signing him up, and some post research on him as well, and we've seen how that works for us.  In the Peppers case, we did research a couple of years ago and we know that our Peppers guests love food and beverage.  They love their wine, they love their food, and even down to the family and the kids, it's an important aspect of any holiday.
Now we've taken that and we work with Gourmet Traveler now and we have a food trial, and it's a very important part.  We're continually researching how our guests relate to all of that.  I learned a lot when I was working for Warner Brothers and Village Roadshow as far as research and understanding the guests and this applies for every industry, particularly in the hospitality industry.
[icon name="fighter-jet" class=""]  Do you want to hear more from us? 
Want to be kept up to date with the latest travel and tourism insights? Join Our Mailing List. Every 2 weeks, we send the latest practical insight for you to apply to your business and destination marketing. 
[aio_button align="none" animation="none" color="yellow" size="small" icon="none" text="SIGN UP NOW" relationship="dofollow" url="https://ce141.infusionsoft.com/app/page/3b91e76f9295b4952bc564bd38f00064″]